Bento: More Than Just a Lunch Box
In 1954, an American food company named Swanson found its executives staring at a large problem with no easy solution ... how to sell or dispose of 260 tons of leftover Thanksgiving turkey. Borrowing an idea from airplane meals, they took compartmentalized aluminum trays and created the first "TV dinner" consisting of turkey and other various Thanksgiving sides.
With the help of a successful television marketing campaign, Swanson sold over 25 million TV dinners that next year and eventually expanded this idea by developing meals of all varieties. This idea of a quick, convenient meal in a compartmentalized tray had spread like wildfire throughout the United States!
While the TV dinner seemed revolutionary for Americans, the Japanese were well ahead of the game; compartmentalized meals called bento boxes had already existed for centuries in Japan. Bento boxes are very popular in Japanese culture, as they were established as a convenient way to eat a healthy portion-controlled meal. Read below to learn more about the importance of bento boxes in Japanese culture, then order your own from Bokksu today! We have countless snack options allowing for endless customization in our bento boxes!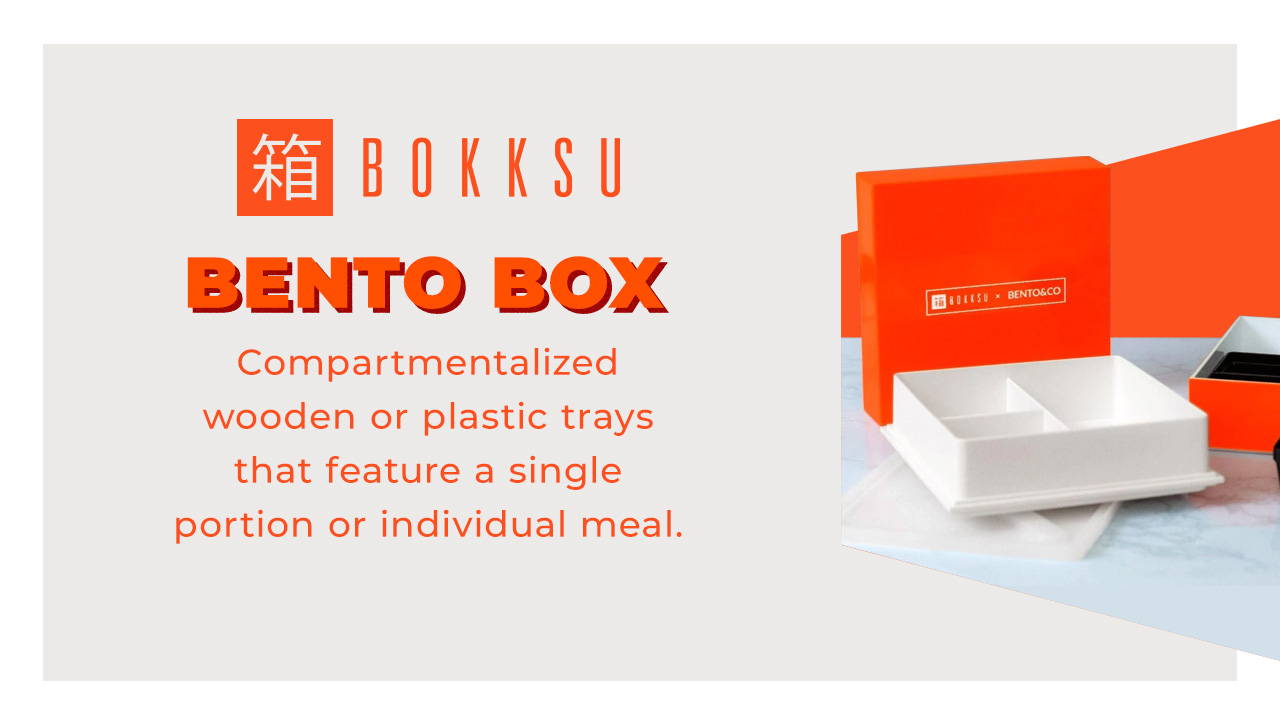 What Is a Bento Box?
Bento boxes are a kitchen staple of all Japanese people. They are compartmentalized wooden or plastic trays that feature a single portion or individual meal. Bento boxes are either prepared at home or purchased from any number of locations, such as department, convenience, and grocery stores. Many restaurants also sell bento boxes as take-out/carry-out dining options.
The History of Bento Boxes
Bento boxes, like many aspects and traditions of Japanese culture, trace their origins back several centuries. While convenient portable meals first originated in the 12th century, bento boxes themselves were first used in the Edo Period of 1603-1868. Many began using bento boxes while traveling, engaging in outdoor activities, and basically any other situation where a traditional sit-down meal was not an option. They briefly decreased in popularity after World War I but saw a resurgence by the 1980s.
Symbolism of Bento Boxes
Bento boxes are excellent ways to express many aspects, symbols, and elements of Japanese culture. For example, the number five plays an important role in Japanese culture. The five colors white, black, green, red, and yellow are found throughout Japanese architecture, artwork, and more. These five colors are usually present in each meal, and bento boxes allow for easy color-coded food distribution and decoration.
The Japanese also use five different methods to prepare and consume food, as it can be raw, simmered, fried, steamed, and roasted/grilled. Additionally, there are five different flavors that should be present in each Japanese meal. They should be salty, sweet, sour, bitter, and umami (savory). Finally, food should be enjoyed with all five senses of taste, touch, smell, sight, and sound. Many bento boxes are constructed with these "rules of five" in mind.
The visual sense is especially important in Japanese cuisine. Food's aesthetic is very highly valued, as the Japanese say that the eyes eat first. Therefore, bento boxes must be as visually appealing as they are delicious. Therefore, many love to use bento boxes to express their artistic creativity.
Bento boxes are also used to convey one's feelings and emotions. Aisai bento boxes are a specific type made by wives to convey their love and affection for their husbands. From the husband's perspective, receiving a beautifully crafted aisai bento box means the wife is very happy and appreciative. They want their husband to enjoy a delicious, alluring, and nutritious meal! Conversely, shikaeshi bento boxes are given to husbands after marriage fights or disagreements. They may put less time into the box and make it less delicious or bland-looking.
Types of Bento Boxes
While there are no specific guidelines for what goes into a bento box, there are several different types that are synonymous with specific events, themes, or locations. For example, Makunochi bento boxes are enjoyed at the theater. Its name is derived from the Japanese word for curtain (maku), as it was typically eaten as the curtain was drawn after the first act of a play. Makunochi prominently featured foods that were easy to eat quickly and easily, such as onigiri (rice balls) and sushi.
Ekiben is another specific type of bento box. They are sold in Japanese train stations and are perfect for travelers to enjoy during a scenic rail ride. First sold at the Utsunomiya Station in Tochigi Prefecture, this concept spread to train stations throughout Japan and was quickly established as a mainstay in Japanese culinary culture. Ekiben predominantly feature food specific to certain regions, relating to a sentimental element of Japanese culture.
Chara-ben or kyara-ben, short for character bento boxes are another popular type of bento boxes. The design of these boxes is much more detailed and intricate than other types, as food aesthetic is valued very highly in Japanese culture. Popular versions of chara-ben are animal-themed boxes and anime-character-themed boxes. In fact, there are countless recipes for different popular anime characters! They allow one to express creativity and have fun while designing their delicious meal!
Koraku boxes are another type of bento. These larger boxes are typically shared among a group and are very common at outdoor events such as picnics. Finally, there has recently been an increase in popularity for health-conscious soshoku bento boxes. Soshoku bentos are prepared with only the highest-quality organic and fresh foods. These boxes also include vegan and vegetarian options.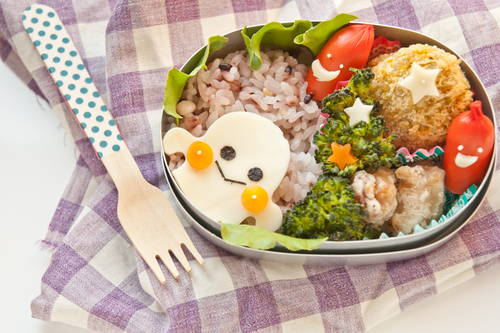 Making Your Own Bento Box
Bento boxes allow for endless customization, which is a large part of their appeal. Many love to experiment with different combinations, recipes, and food when preparing their own boxes. Despite the endless customization, there are some general guidelines for bento boxes. They typically feature carbohydrates, protein, and vegetables. Some choose to include fruit or a dessert as well.  
A traditional Japanese bento box ratio is 4:2:1, or 4 parts rice to 2 parts protein and 1 part other ingredients. However, 3:2:1 and 1:1 ratios are also fairly common, especially for those trying to watch their caloric intake.
Rice is the most traditional carbohydrate option for a bento box. It can be prepared in a variety of ways, but steamed short grain rice is the most common. Many also love preparing onigiri (rice balls), and they can even be molded into shapes or characters for your chara-ben! Topping your rice with seasonings such as salt, pepper, black sesame, furikake (dry seasoning for rice), or umeboshi (pickled plum) is a great way to add flavor to your bento box!
Many love rice in their bento because it has a neutral flavor that compliments virtually all possible protein, fruit, and vegetable options featured in the box. However, rice is not the only carbohydrate, as it can easily be substituted with other options such as noodles.
Protein is the next section in a bento, and it is often the main course of the box. The most common choices are meat or seafood, but some use eggs, tofu, and beans as well. There are an endless number of possibilities for the protein portion of your bento. For example, an excellent non-meat protein source for your bento is tamagoyaki. These are thin egg layers rolled up like a crepe, and many love to put thin slices of spinach or other vegetables in between the layers.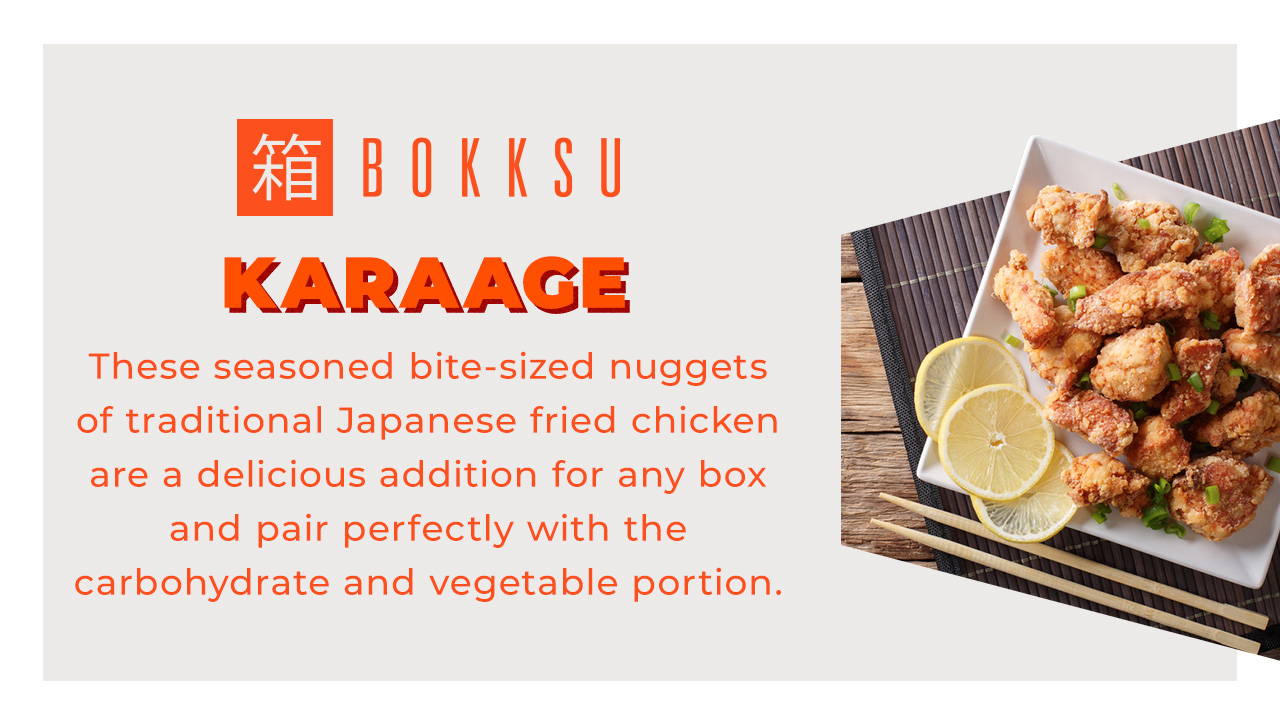 Karaage is a common meat dish prepared for bento boxes. These seasoned bite-sized nuggets of traditional Japanese fried chicken are a delicious addition for any box and pair perfectly with the carbohydrate and vegetable portion. Ebifurai and grilled fish are two common seafood meals in a bento box. Ebifurai are shrimp fried in panko breadcrumbs, and many use grilled salmon or seba as a healthy protein portion as well. However, any desired seafood is likely easily available in abundance due to Japan's island location.
Most vegetables included in bento are either pickled or cooked. Pickled vegetables are usually purchased at any grocery store or market, and common examples include umeboshi and kyurizuke (pickled cucumber). Many also enjoy preparing their own vegetables by steaming, sauteing, or grilling them. One vegetable bento portion to prepare is goma-ae, which is a spinach salad with sesame dressing.
Additionally, you can combine the carbohydrates and vegetables by preparing a potato or pasta salad! The vegetable portion of your bento is very important and an easy way to eat something healthy AND delicious!
Many also include a fruit or some sort of dessert in their bento. Traditional Japanese desserts such as mochi and matcha make for wonderful additions to any bento. These sweeter foods make for an excellent treat after enjoying your delicious carbohydrates, protein, and vegetables! Fruits and desserts can also enhance the highly valued aesthetic of your bento by adding additional color schemes.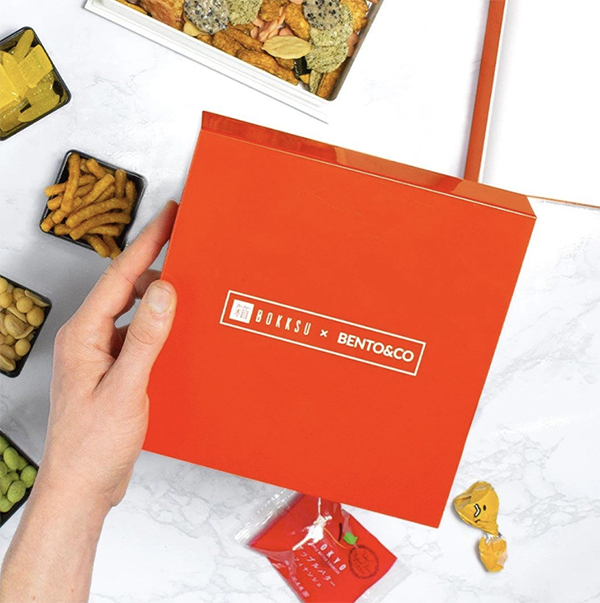 Bento Boxes and Bokksu Snacks
Now that you're ready to make your own bento box, you've come to the right place! We have both a lovely bento box and a variety of snacks to fill it with! Bokksu has proudly partnered with Bento&Co to release our Signature Bento Box. This box is divided into two tiers. The upper container is split into three sections and features a re-sealable lid that can also store silverware and chopsticks. The lower compartment features nine removable containers. It's perfect for picnics, gatherings with friends, and making the perfect Koraku bento.
Bokksu also carries a variety of Japanese snacks to fill bento boxes with. If you need a sweet or savory snack to complete your bento box "rule of five," we've got you covered! Bokksu also sells Japanese versions of treats and candies such as Kit Kats, which allow those all over the world to experience their own taste of Japan!
Additionally, we sell a variety of other candies, chocolates, and cookies that make for excellent desserts in bento boxes. With Christmas fast approaching, one of our pound cakes make for an excellent and festive bento box dessert. There are also vegetarian snack options available to accommodate all dietary restrictions and/or choices. After you're done enjoying a delicious bento box meal, wash it down with one of our many Japanese teas!
Now that you've read all about bento boxes and are ready to try your own, make sure you order your box and snacks from Bokksu. In addition to bento box snacks, we also offer monthly subscription snack boxes for customers all over the world. These boxes are just another way for you to experience Japanese snacks and delicacies at an affordable cost. For any questions concerning bento boxes or our other products, refer to our FAQ page or fill out our online contact form.
---