Perfect Japanese Tea and Cookie Pairings
Some things are just meant to go together: Chocolate chip cookies and milk and cheese and wine are some of the most well-known food pairings. Food and drink duos can complement, enhance each others' flavor through contrast, or bring out textures to add to your eating experience.
Wagashi, or traditional Japanese sweets, are typically served with green tea. These small, beautifully detailed sweets are inspired by the seasons, taking the shape of cherry blossoms in spring or maple leaves in autumn. They are often served in tea ceremonies, where their sweetness pairs well with the bitterness of matcha green tea.
Similarly, white chocolate and matcha are a match made in heaven, and with good reason! The high sweetness of white chocolate (compared to regular chocolate) helps with the strong bitterness of matcha. Matcha white chocolate chip cookies are thus quite popular! Inspired by that, we've put together a list of some fun and interesting pairings of Japanese cookies and Japanese teas
Green Tea Pairing:
Hokkaido White Raspberry + Gyokuro
While not matcha, gyokuro green tea is up there in the rankings in terms of quality and flavor among Japanese teas. Gyokuro green tea isn't as bitter as matcha, and its lighter flavor would go well with Hokkaido White Raspberry, a crispy cookie covered in a smooth white chocolate. Sprinkled through the white chocolate are dried raspberry bits, which add tartness to this flavor palate.  
Black Tea Pairings:
Hello Kitty Cookie + Nekoucha Black Tea
In the U.K., black tea is often enjoyed with digestives, a semi-sweet wheat flour biscuit. The creaminess of the cookies partner well with the high astringency of black tea.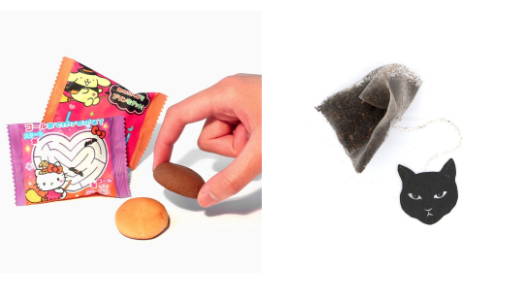 With that in mind, we recommend this fun feline pair: the adorable Nekoucha cat-themed tea bags with Hello Kitty biscuits! The pudding version of the Hello Kitty cookie is a vanilla-flavored cookie with a pudding center. The creaminess of these cookies will taste excellent with the Nekoucha black tea, which has delicate floral notes. Plus, serving these is Instagram-worthy because the tea bags have cat-shaped tags, making this perfect for cat lovers!
Cheese Cookie + Benifuuki Black Tea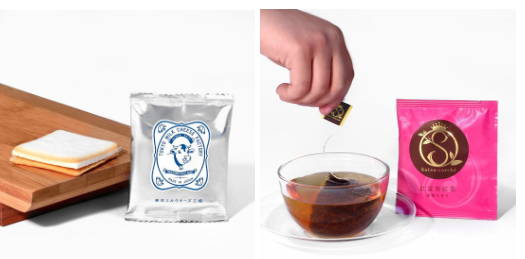 If you have foods or sweets that are rich, black teas go well with them because of their robust flavor. Benifuuki black tea is special because it is fermented for three months in the dark, resulting in a tea that is simultaneously bitter yet sweet. To fully experience this tea, it is best to enjoy it straight, without milk. Pair it with Tokyo Milk Cheese Factory salt and camembert cheese cookies, a savory yet sweet cookie that is perfect for tea time.
Shiroi Koibito + White Peach Tea
The lightness of Shiroi Koibito butter cookies with their white chocolate filling goes wonderfully with a white peach cold brew tea. The white chocolate in Shiroi Koibito isn't too sweet, allowing you to appreciate the white peach aroma of the tea. If you're looking for a lighter snack, this cookie and tea pairing is delightfully refreshing.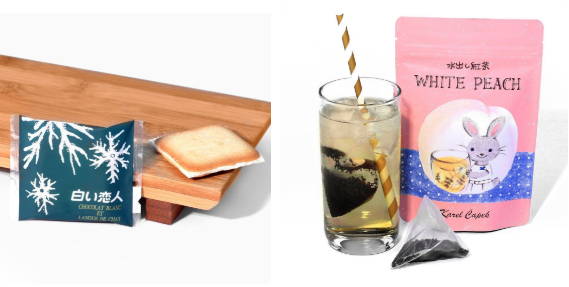 Roasted Green Tea Pairing:
Tokyo Chocolate Banana + Hojicha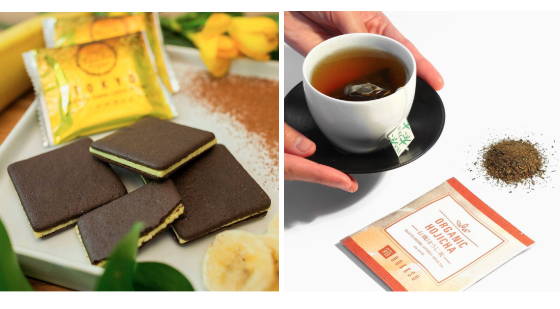 The toasty, nutty notes of roasted teas like hojicha green tea, which is roasted over charcoal, or genmaicha tea, which includes bits of toasted rice, are thought to go well with fruity flavors.
Less overpowering than black tea, and not as grassy as green teas like gyokuro, hojicha tea's milder flavor makes it easy to enjoy with many kinds of foods, both savory and sweet. Sip a cup of hojicha with Tokyo Chocolate Banana cookies, a chocolate sandwich cookie with a banana-flavored cream center. The almost caramel-like notes of the hojicha will blow your socks off.
---