Japanese Kit Kat Review Part 1: Sake Kit Kats
How is it that Kit Kats are one of the most viral snacks to come out of Japan when they're not even originally Japanese? Nestle Japan has raised the humble chocolate-covered wafer to an entirely new level. The nearly endless stream of new and unique flavors means a new Kit Kat craze is happening at least once a year. They have seasonal flavors coming out four times a year, regionally exclusive varieties that can only be bought from certain prefectures, brand partnership flavors, seriously, it doesn't end!
With so many Kit Kats on the market, I tried to get my hands on as many as possible for the sake of this series of reviews. Maybe I'm a skeptic, but let's face it, they can't all be delicious, can they? I mean, come on, cough drop flavor? But if you're like me, you'll want to try it anyway just to say you did.
Since we'll be going down quite a rabbit hole with these Kit Kats, I've divided my reviews into different parts. Today we're going for the Sake Kit Kats!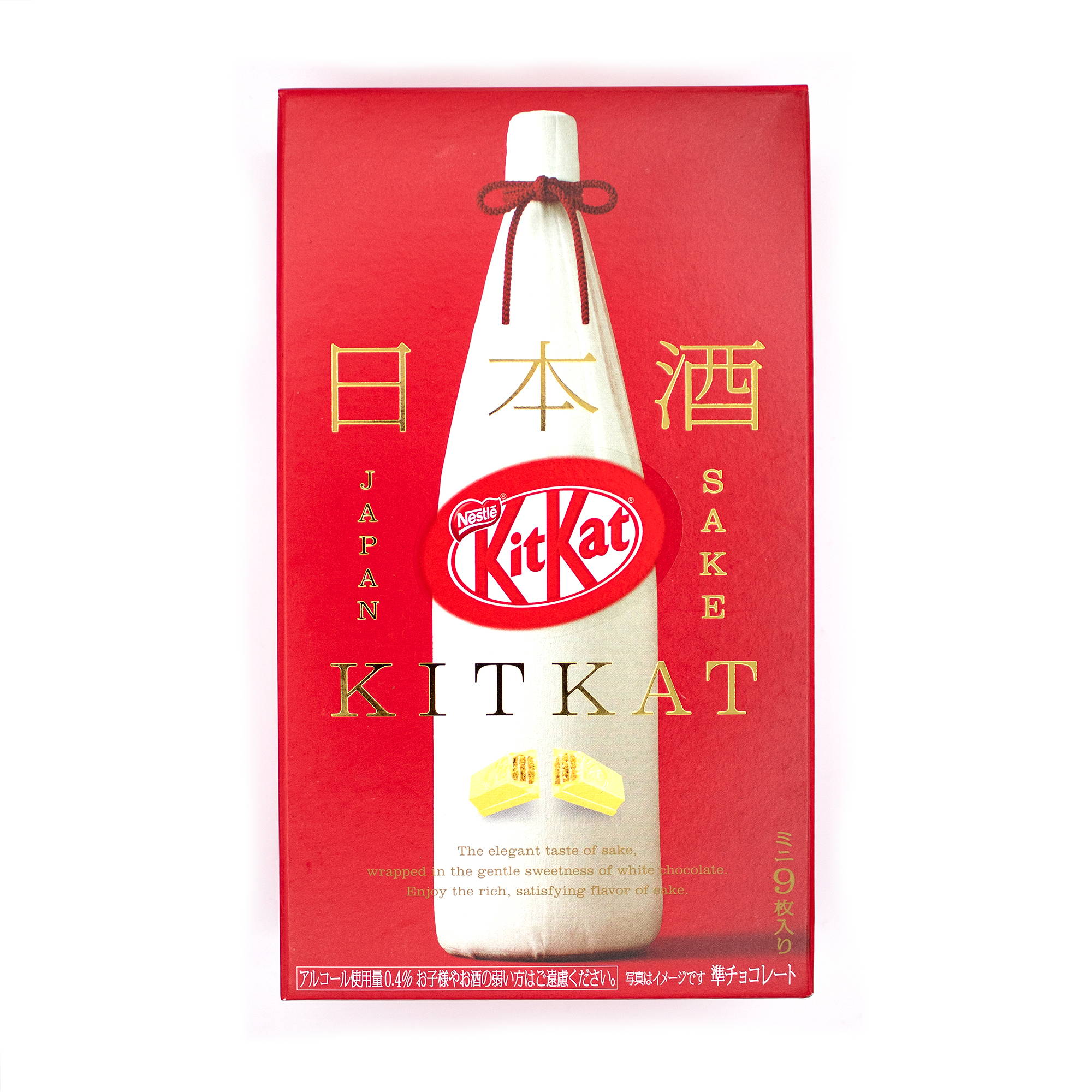 Premium Japan Sake Kit Kat
The first of Japan's "premium" sake Kit Kats, this flavor is made with real sake from a Toyama brewery. This brewery is over a century old and is the maker of Masuizumi sake, which gives this chocolate its intense flavor. You can smell the sake scent just by opening the packaging. The flavor has a slight fruitiness, but also a little bit of astringency that you'd expect from a drier sake. Though it is white chocolate, it's definitely not as sweet as other sake Kit Kats (which I think is a good point). This and the following sake Kit Kats all contain alcohol. The original sake flavor contains 0.4% alcohol per bar.
TRY IT NOW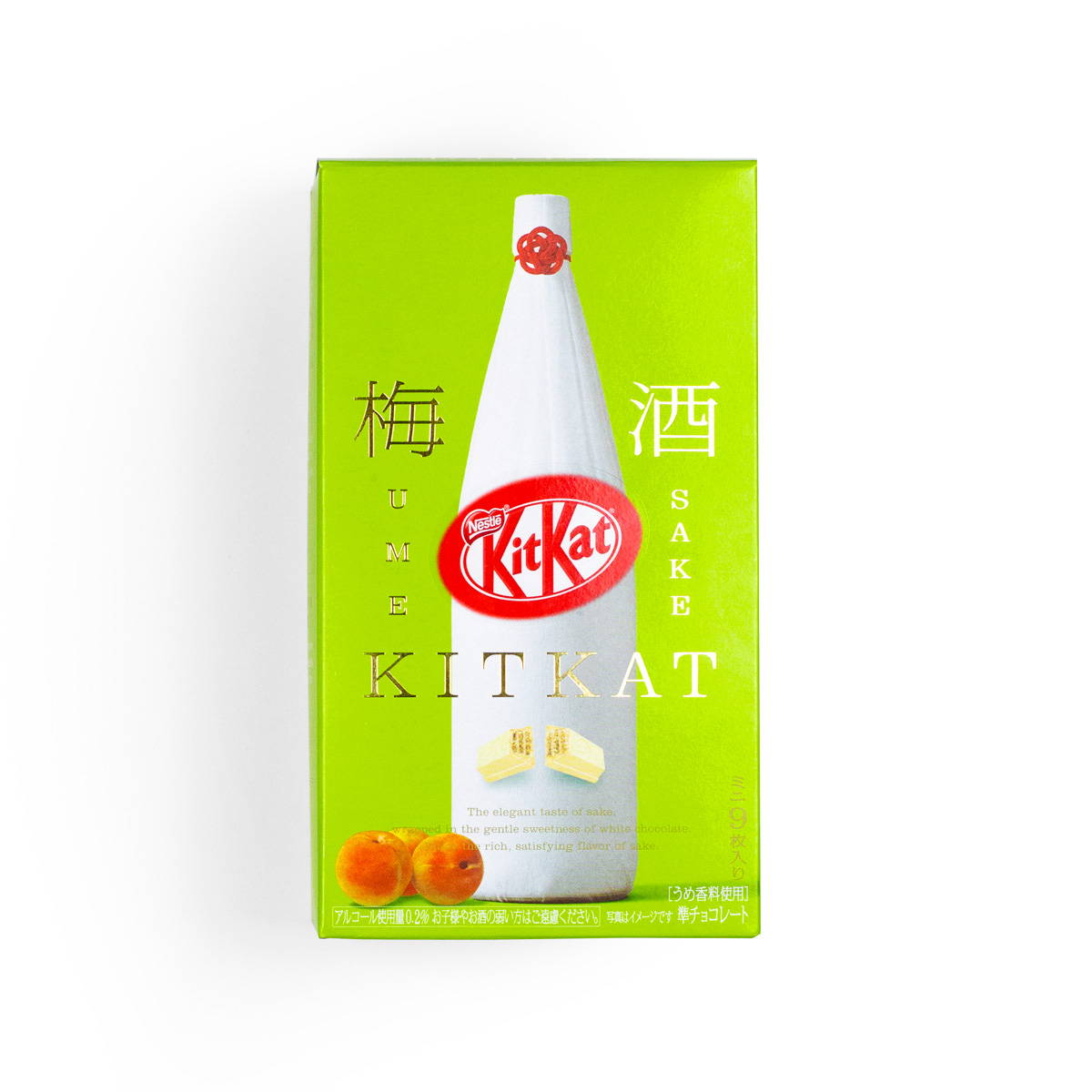 Ume Sake Kit Kat
Made in partnership with soccer star Hidetoshi Nakata and Heiwa Shuzo Brewery, this premium Kit Kat got people talking. Heiwa Shuzu is known for its wide line of fruity sakes using local Wakayama ingredients, and Nakata (who's also an accomplished sake connoisseur) chose the Tsuru-ume Suppai Umeshu as the flavor inspiration for this Kit Kat. The sour flavor of the plums comes through in the fragrant white chocolate. It's a bit of a perfumey and intense flavor, and one is certainly enough to satisfy me.
TRY IT NOW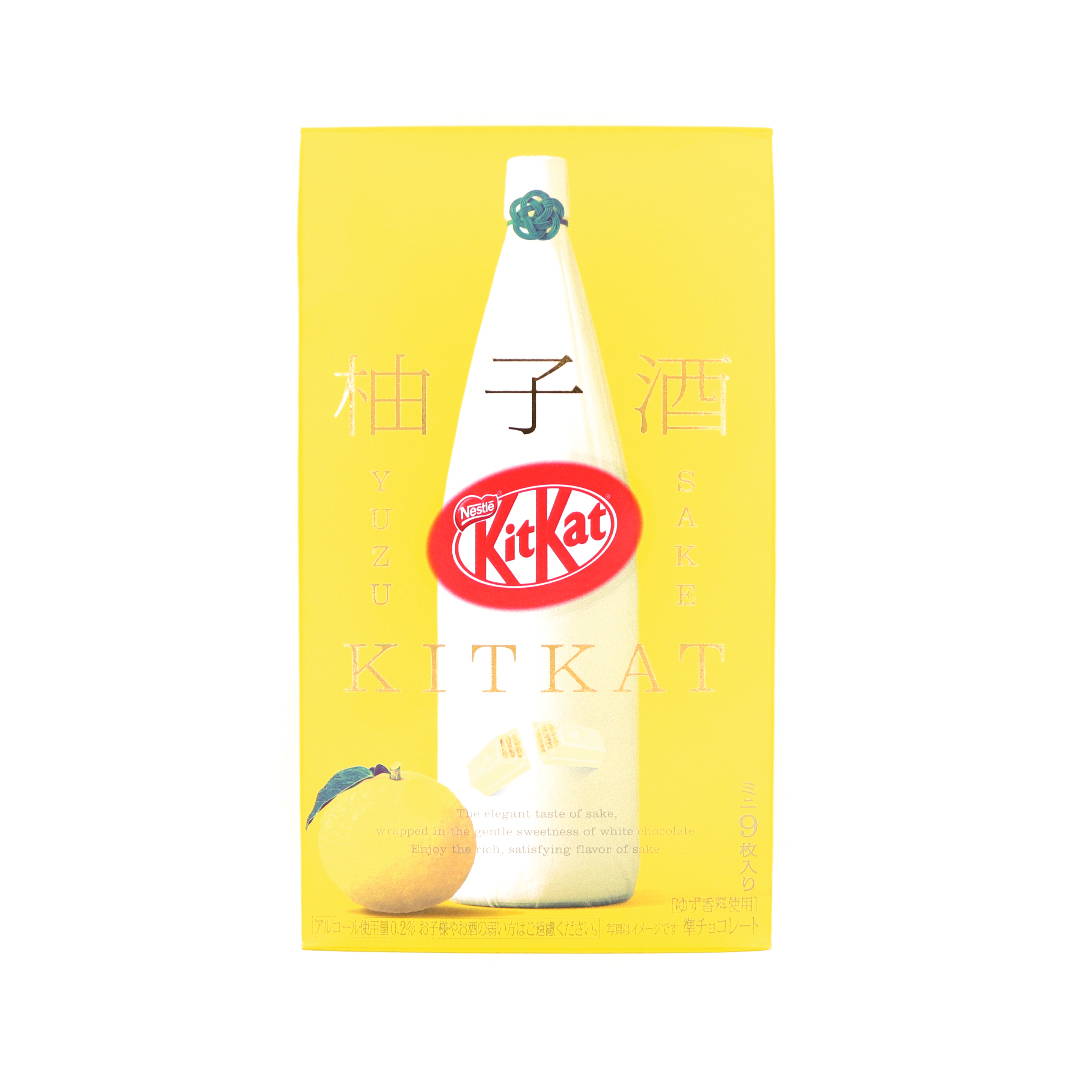 Yuzu Sake Kit Kat
The newest of Nestle's sake Kit Kats, Yuzu Sake was also made in partnership with Hidetoshi Nakata. This time the lucky brewery is Hamakata Shoten. Their Bijofu Yuzu Sake is known for its richer flavor compared to other yuzushu and was hand-selected to bring this Kit Kat to life. On first bite, this Kit Kat isn't quite what I expected. There's a creaminess to the flavor and almost a hint of . . . something herbal(?) that contrasts with the sweet yuzu flavor. My coworkers inform me that it's probably flavor from the yuzu peel. It doesn't have a tart punch like the Ume Sake Kit Kat and is overall much more of a mellow flavor. This Kit Kat contains 0.2% alcohol. This isn't on our Market yet . . . but keep an eye out ;)
TRY IT NOW
This is just the beginning of our Kit Kat Journey, so stay tuned for more as I taste-test my way through Japan's Kit Kats. As more are posted, I'll be linking them below for your convenience. If you want to try any of our Japanese Kit Kats, head over to our Market and try them for yourself!
---