8 Foreign Snacks You Haven't Tried But Need to
Maybe it's just us, but we think the best part about traveling is gorging on the local food. From the spicy lollipops of Latin America to novelty Japanese snacks shaped like fish, mushrooms, and pandas, there is exciting stuff to eat in every corner of the world. At Bokksu, we're particularly partial to Japanese candy and snacks—which is why it dominates this list—but we're also crazy about other unique, international options that pique the taste buds. Here are some of our favorites:
1. Japan: Kit Kat
The breakable chocolate wafer candy is huge in Japan, but don't expect it to taste like the plain stuff found back home. In fact, Japanese Kit Kats are unlike anything you've seen in the United States. If the craziest kind you've ever tried was white chocolate, we invite you to explore the great, big world of Japanese Kit Kat flavors, where varieties include grape, sweet corn, cocoa banana, and—get ready for it—cough drop.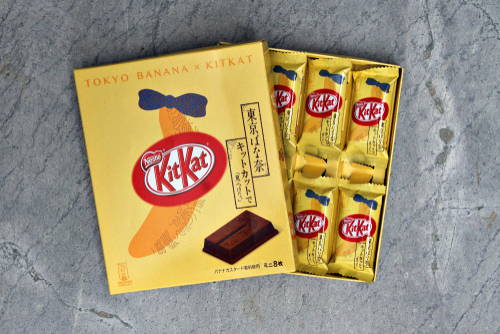 2. Japan: Langue De Chat
Meaning "tongue of the cat", these Japanese cookies seem like they'd come fresh-baked from a boulangerie in France, but they actually hail from Japan's northernmost main island, Hokkaido. These yummy, square-shaped butter cookies feature a tasty white chocolate filling. Despite their European name and origin, this crumbly cookie offers a great mix of regional flavors and textures, making them uniquely Japanese.
3. Japan: White Strawberries
The world's first chocolate-infused strawberries are produced by an innovative Nagano candy maker using farm-fresh organic strawberries, which are then freeze-dried and infused with smooth white chocolate. These Bokksu-original white chocolate strawberries delight the taste buds with their perfect mix of sweet and tart flavors, so you should definitely file them as a must-try!
4. Mexico: Vero Mango Lollipops
Sure, Asia may dominate the novelty candy aisle, but Latin America is no stranger to fun (and strange) sweets either, especially those of the spicy variety. Vero Mango are spicy, chili-covered mango lollipops from Mexico that all daring eaters need to try at least once. The layered lollipop goes from super-spicy to tangy to sweet, taking you on a flavor journey with plenty of twists and turns.
5. Netherlands: Stroopwafel
This popular Dutch wafer hails from the city of Gouda, but you can find them all over the world these days. Featuring a delicious waffle wafer stuffed with a caramel syrup filling, stroopwafels set the standard for European cookies. The most common brand you see in the U.S. is Daelmans, but there are many stroopwafel-makers throughout the Netherlands and the world, including small bakeries and restaurants.
6. Korea: Petitzel Pudding
There are hundreds of worthy Korean snacks and candies to try, from the popular shrimp crackers and seaweed snacks to the many novelty candies, so it's really hard to pick just one. But our current favorite is the Petitzel sweet pudding, which features an unbelievably smooth, rich texture in flavors like ice cream, caramel, sweet potato, pumpkin, cheese, and milk and egg.
7. Germany: HARIBO Gummies
Okay, you've probably had HARIBO gummies before (their Goldbears are basically the gold standard of gummy bears, in our opinion), but did you know that this German confectionery also makes tons of gummy candies in specialty flavors and unique shapes that you probably won't find in the U.S.? Frogs, dinosaurs, clown fish, soda bottles—there are many sweet, chewy gummy varieties to explore by HARIBO.
8. Philippines: Dried Mangoes
The endlessly popular Philippine Brand Dried Mangoes are among the most famous packaged snack foods to come from Southeast Asia. These are exactly what you'd expect them to be—slices of dried mangoes that offer a satisfying chew and a sweet, tropical flavor. All of the mangoes used in this candy are made from fruit indigenous to the Philippines and retain their nutritional value for a truly guilt-free treat.
Order Foreign Candy Online
You don't have to cross the ocean to get a taste of these amazing global treats! There are all kinds of online international grocery stores and marketplaces where you can sample snacks from around the world, and Bokksu has you covered on all the Japanese staples. Try them all and let us know what you think!

---