How to Make Japanese Soufflé Pancake
On the last day of my trip to Kyoto, I stopped by a small cafe in front of Kyoto station for a quick breakfast. It was a gloomy rainy day, and smooth jazz was playing in the background. Feeling cozy, I asked for hot coffee and pancakes, or hottokeki (hot cake). The clerk seemed to be in a panic for a few seconds, then he wrote down "after 15 times" in a small memo. I knew Japanese people also like to eat pancakes with afternoon tea, so I figured he meant that pancakes start from 3pm. I was a bit disappointed, but I was sipping my coffee enjoying the rainy view outside when the clerk did actually bring me 2 layers of pancakes after 15 minutes! I realized I had misunderstood and he was trying to tell me it would take a bit of a wait for them to make them fresh.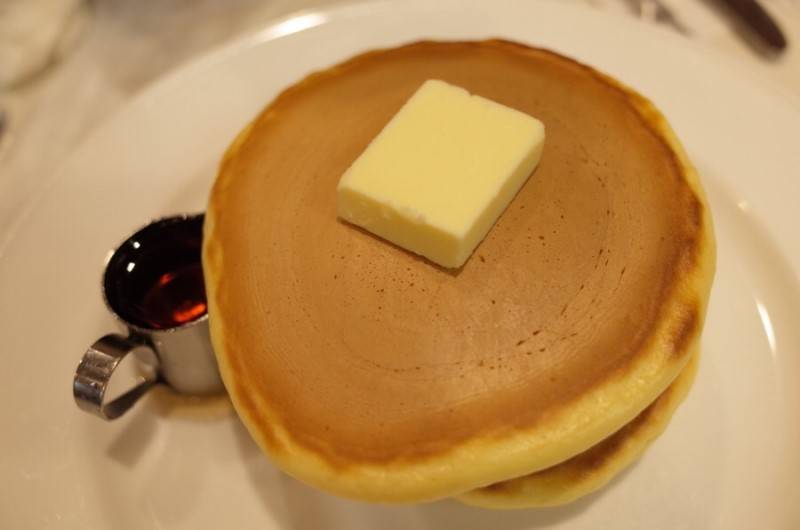 It was served with one big chunk of butter and acacia syrup, instead of maple syrup. I took a big bite of it, and it had everything from fluffiness and butteriness to the fragrance of acacia. Since then, pancakes have been on my "must-eat" list for Japan.
My impression on Japan is that people there take food seriously and always bring food to another level. This is no exception for pancakes. Though pancakes became popular in Japan only within the past couple of years, you can now find any kind of pancake you've dreamed of from fluffy pancakes to buttermilk pancakes and soufflé pancakes. There are even snacks inspired by Japanese pancakes such as Hokkaido Pancake Langue de Chat Cookies, and Mini Maple Syrup Pancake sandwiches.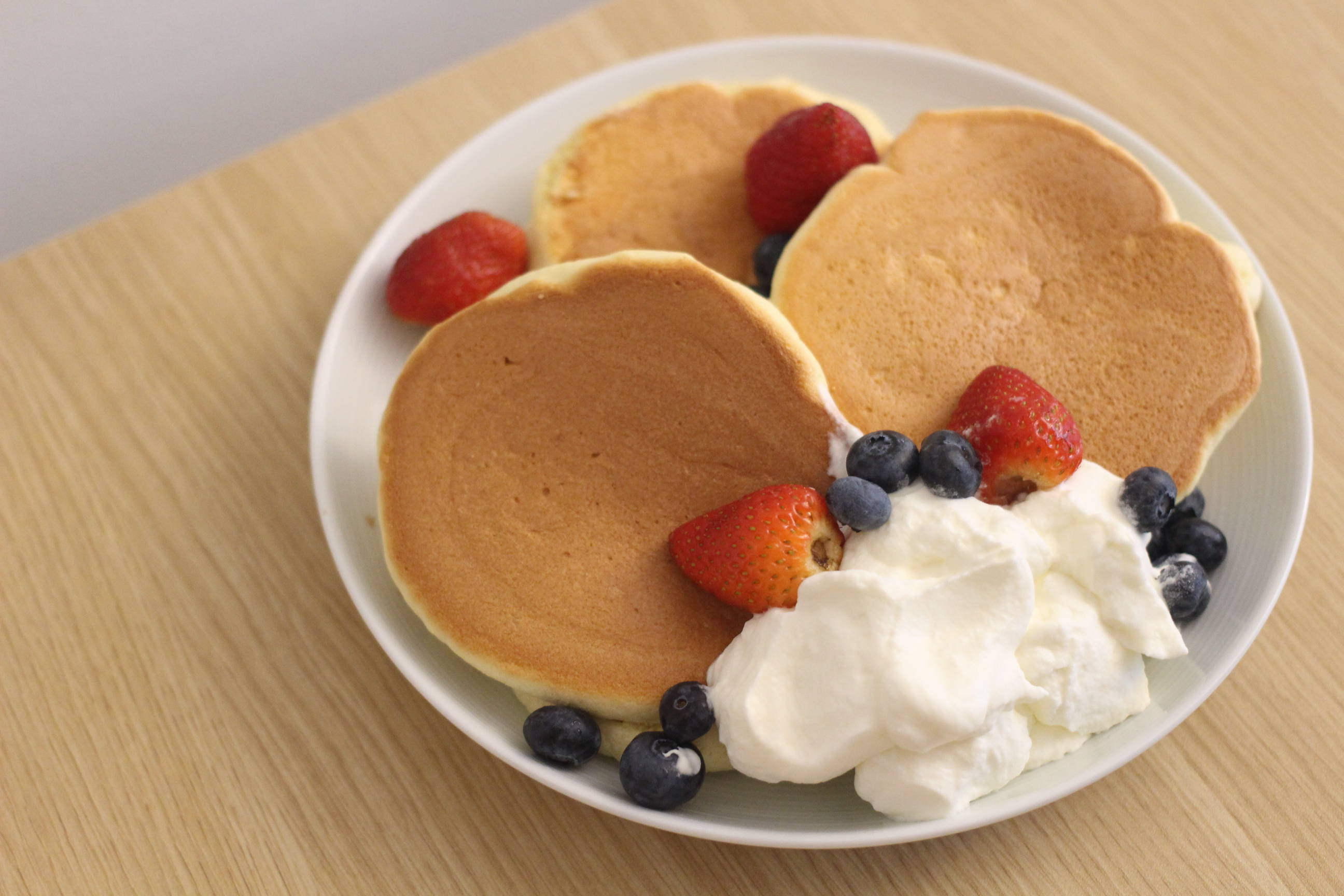 All types of Japanese pancakes are distinctive from pancakes in other countries, but among them, the soufflé pancake has become especially popular worldwide. Even in New York City, people stood in line for hours for fluffy and jiggly Japanese soufflé pancakes.
Made with meringue, these cloud-like pancakes make perfect combinations with any toppings from maple syrup and berries to whipped cream and ice cream. So today I want to introduce you to the recipe for Japanese soufflé pancakes so you can enjoy the flavor of Japan at home!
You can follow the recipe below, or download and print it here.
Directions
1. Beat the egg yolks with a whisk in a medium size bowl. Mix in milk and vanilla extract. Add flour and mix well.
2. In a separate bowl, whip the egg whites on the highest speed. As the egg whites start to make foam, add sugar one tablespoon at a time. Whip for another 2-3 minutes until meringue holds a 1-inch peak when you lift the whisk and stays put when you turn the bowl upside down.
3. Put a quarter of the meringue in the egg yolk mixture. Mix the meringue with the mixture with a whisk until they are all mixed together. Add half of the meringue into the mixture and slowly fold the mixture with the whisk until it is incorporated so the meringue holds its foam. Do the same for the other half of the meringue.
4. Heat the pan on a low heat. Coat the pan with butter. Of a quarter of the batter, put ⅔ of the batter onto the pan. Pour a tablespoon of water into the pan and cover the pan with a lid. Cook about 3 minutes until the bottom is golden. Pour ⅓ of the batter of the quarter of the batter onto the pancake you were cooking. Flip the pancake and add another tablespoon of water. Cover the pan and cook for 3-5 minutes until the bottom is golden. Slightly touch the side of the pancake with a finger. If the batter doesn't come out, it is done! Repeat three more times for four Soufflé Pancakes. Serve with your favorite toppings.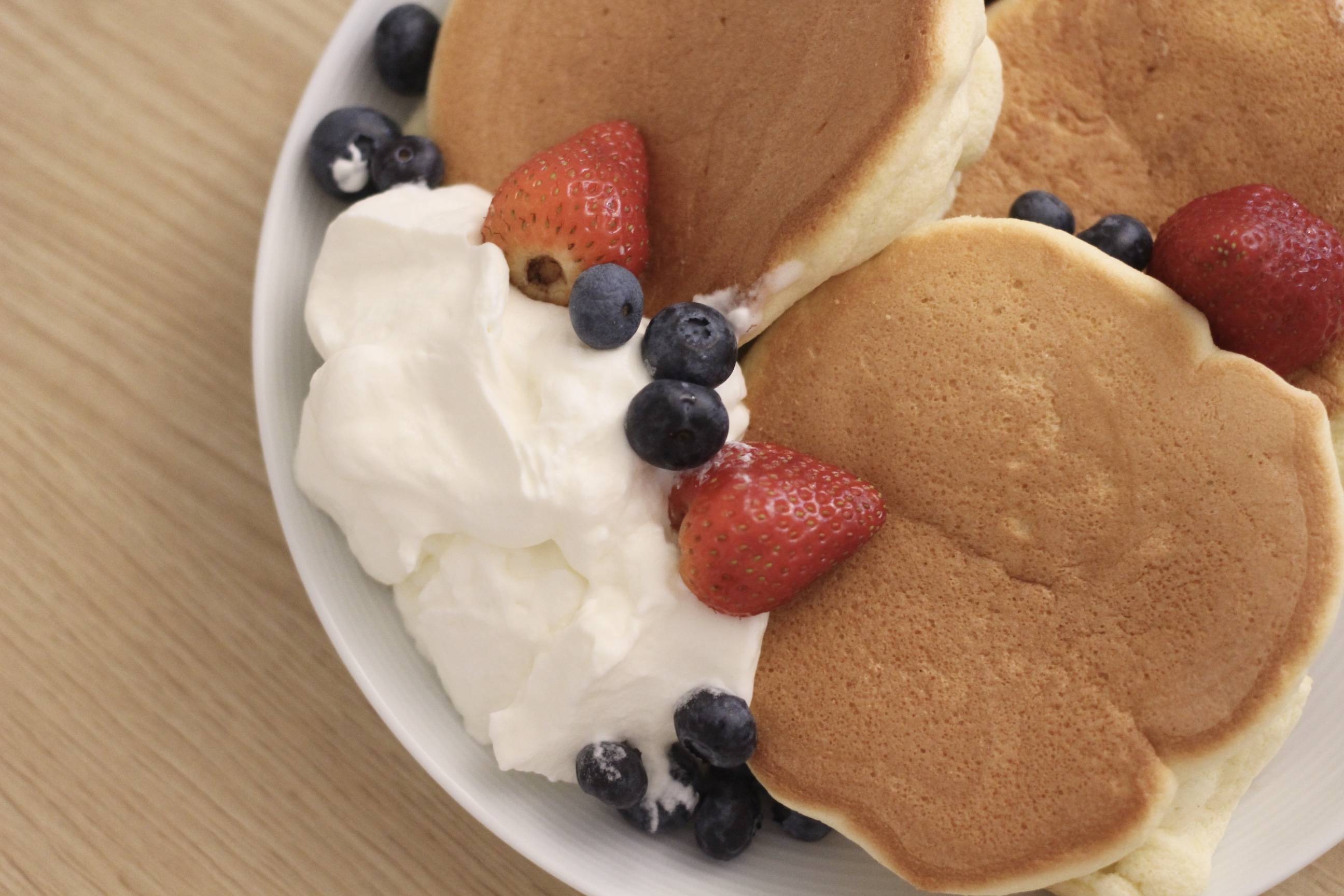 ---