A Chocolate a Day: Our Favorite Japanese Chocolates
Okay, a chocolate a day may not actually keep the doctor away, but it's a surefire way to boost your mood! Sometimes you just have to treat yourself, and nothing beats indulging in chocolate after a long day.
Like anywhere else, Japanese people enjoy chocolate. It took a while for chocolate to be introduced to Japan, though, since it isn't a native plant. Cacao, the fruit used to make chocolate, comes from South America, and the Mayans and Aztecs were enjoying chocolate drinks as far back as the 1500s. It is believed that then chocolate was introduced to Europe through Spanish conquistadores who brought cacao back as gifts to their royal benefactors.
Chocolate is thought to have been introduced to Japan by the Dutch and thanks to Meiji and other chocolate manufacturers in Japan, chocolate became widely available across the country, where it was simply adopted into the Japanese language as chokoreto (チョコレート).
Nowadays, chocolate of all varieties can be found everywhere in Japan, from convenience stores to high-end shopping malls. Well, most of the time. In some cases, there are Japanese chocolates you can only buy in specific prefectures. Additionally, as with many Japanese sweets, there are limited edition chocolates crafted with seasonally available ingredients, like the spring-exclusive Strawberry Daifuku Kit Kats!
Searching for something special to sweeten your day? Look no further with a list of our favorite Japanese chocolates!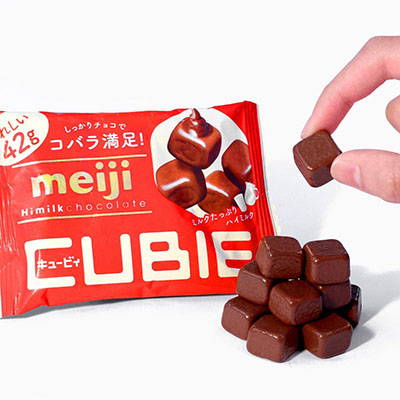 CUBIE "Hi" Milk Chocolate
Let's kick things off with mini chocolate cubes by Meiji. If you love chocolate but hate it melting in your hands, then this is the perfect treat for you! The little cubes are specially made so they'll only melt in your mouth. Meiji boasts that these little guys are made with a higher milk content, making them extra smooth and sweet.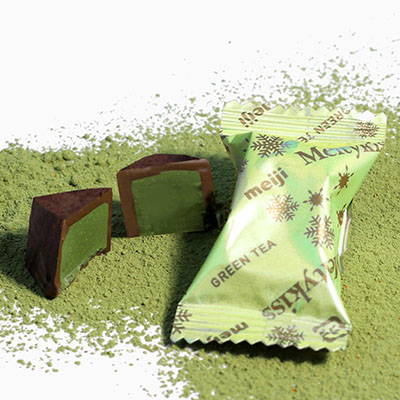 Melty Kiss Matcha
If you're looking for a chocolate that isn't too sweet, this will hit the spot. Melty Kisses are cube-shaped truffles that you can only buy during the winter, marketed as a chocolate that melts in your mouth like snow. This limited edition chocolate has a center of matcha filling. The light bitterness of the green tea blends smoothly with the chocolate exterior, making these the perfect treat for sitting back and savoring.
Chocolate Azuki Beans: Black Sesame Kinako
East meets West in this fusion of traditional Japanese ingredients and chocolate. For these small, yet addicting treats, azuki red beans are first simmered in sugar syrup, then dipped in white chocolate, and flavored with kinako (roasted soybean flour) and goma (black sesame). Kinako has often been described as having a nutty flavor, almost like peanut butter. That, plus the toasty flavor of black sesame, raises azuki beans to a whole new level of snacking!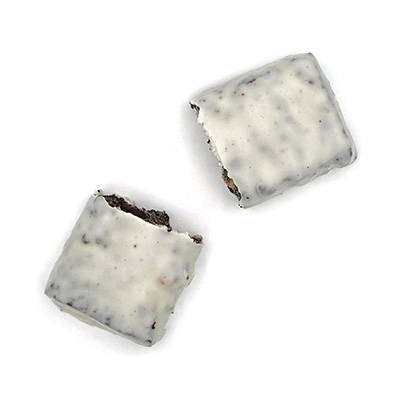 White Black Thunder
Our list wouldn't be complete without Black Thunder, one of the most loved and widely available candy bars in Japan! Regular Black Thunder bars are made with chocolate, chocolate cookie chunks, and puffed rice bits, to create an addictively crunchy snack. White Black Thunder is special, though, because it gets an extra layer of love with a white chocolate coating. Black Thunder can be bought anywhere in Japan, but White Black Thunder is found exclusively in the snowy Hokkaido prefecture.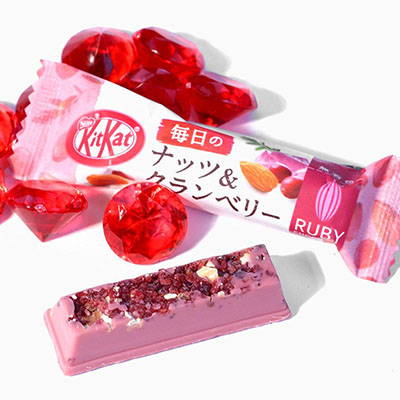 Japanese Kit Kat: Ruby Chocolate Nuts + Cranberry
You may already be familiar with Japan and its huge selection of Kit Kat flavors, but did you know there's a whole luxury line of Kit Kats? The "everyday luxury" series includes these lovely pink Kit Kats. They're made with a special ruby cocoa bean, and each piece is bejeweled with cranberry pieces and chopped nuts.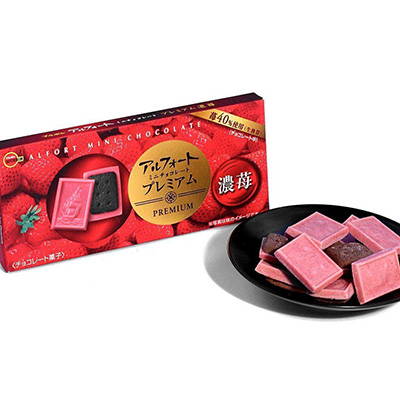 Alfort Mini Chocolate Premium: Rich Strawberry
Truly rich in flavor, Alfort's dark chocolate biscuits are topped with a strawberry-flavored chocolate. The strawberry chocolate is slightly tart, for a more mature flavor, so we recommend this one if you're a fan of chocolate-covered strawberries or the Strawberry Otona no Amasa Kit Kats.
Curb your chocolate cravings and indulge in the best Japanese sweets throughout the year with our curated snack boxes!

---