A Peek into Pocky: Why This Japanese Sweet Treat Never Disappoints
At Bokksu, our goal is to provide affordable, authentic, and delicious Japanese snacks to customers all around the globe. Pocky is one of our more popular Japanese sweets, as this snack is adored by people worldwide. Read below to learn more about Pocky, and then try it out for yourself today!
What Is Pocky?
Pocky is a thin stick-shaped cookie or biscuit dipped in a flavoring such as chocolate. It can also be coated and sprinkled with other toppings as well. Its name comes from pokkin, the onomatopoeia describing the sound made when eating Pocky. However, its name varies from region to region. In Malaysia, it is known as Rocky, while Europeans call it Mikado.
While most Japanese foods are centuries and even millennia old, Pocky is fairly new. It was introduced in 1966 by Ezaki Glico, a Japanese food company and manufacturer. Within a short period, it had spread to other parts of Asia, in addition to Europe and North America.
It was originally marketed to young females looking for a fast and easy snack, but it quickly took off in popularity in all demographics. The convenience and portability make it very popular today, as it's perfect for snacking on the go. It is also frequently served at bars and restaurants with a glass of ice water, milk, or alcoholic beverage.
Despite all of this, there were some initial complaints. The whole stick was dipped in chocolate at first, and customers did not like getting their fingers dirty while eating. By leaving an undipped portion at the end of the stick, customers could eat away and not worry about sticky fingers!
Pocky has become so popular in Japanese culture that it has inspired a holiday! November 11th is known as National Pocky Day because the numerical date (11/11) resembles Pocky sticks! A Korean competitor came up with the idea, but Glico countered with a mass-marketing and promotional campaign that featured commercials and a popular dance. All around Japan, people celebrate by eating different types of Pocky and dancing along to the commercial.
People love touring Glico Pia East's factory in Saitama's Kitamoto city to get a firsthand look at the making of their favorite treat! The guided tours provide an in-depth look into the creation and rise of Pocky in Japanese culture. Afterward, test your knowledge in the quiz room and pick up your choice of flavored Pocky at the gift shop!
Pocky Flavors
Initially, chocolate was the only available Pocky flavor. Almond and strawberry were introduced a few years later, and today there are over 50 different Pocky flavors available. Some are consistently available year round while other flavors come and go. There are also many excellent regional and seasonal flavors available.
Regional exclusives include the Yubari Melon flavor from Hokkaido, Uji Matcha from Kyoto, and Shinshu Grape from Nagano. Popular variations today include different Japanese chocolate flavors, strawberry, almond, and cookies and cream.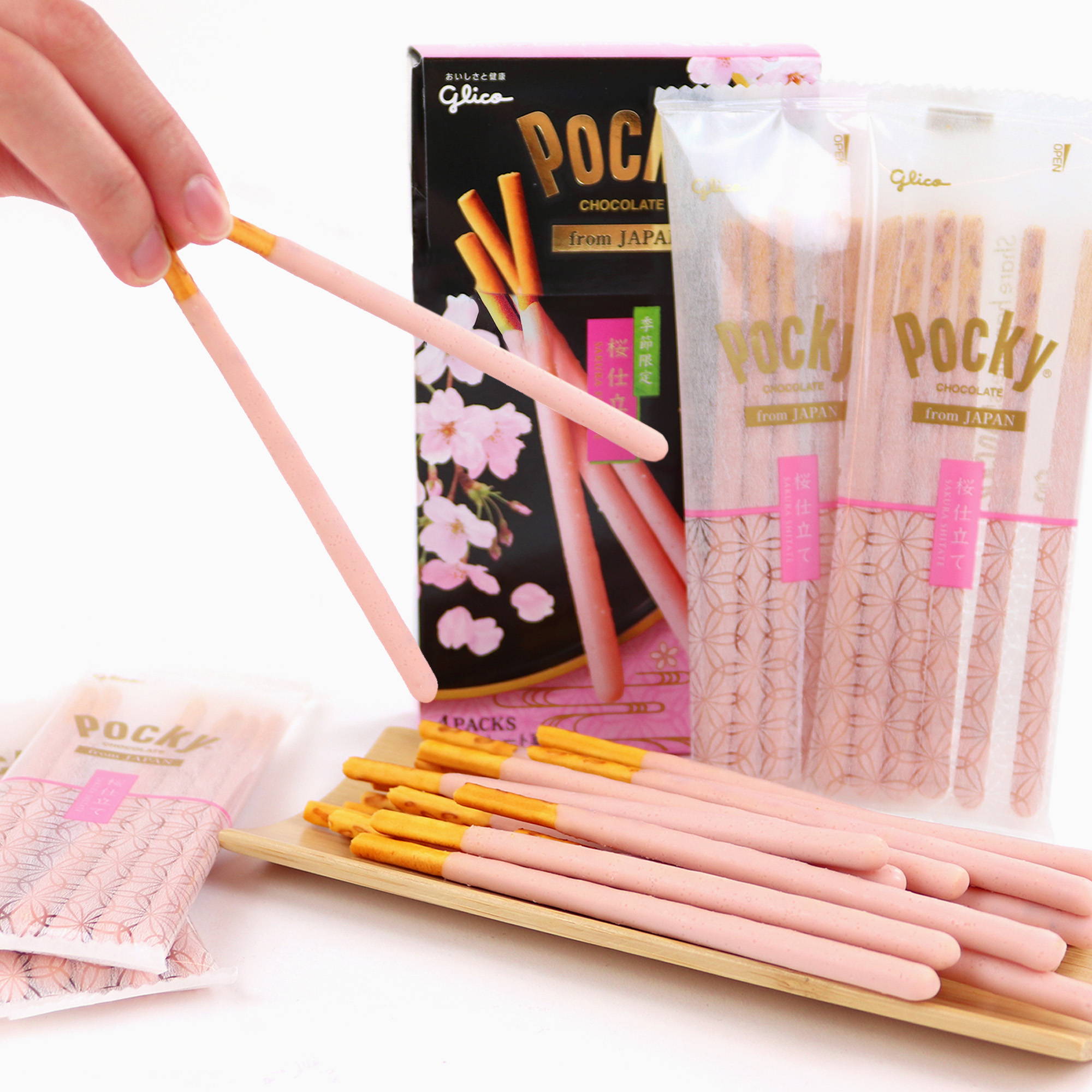 Sakura Pocky
Bokksu has included three different types of Pocky exclusively in our subscription boxes. Our double strawberry Pocky was available as a seasonal exclusive in our April 2018 Blossoming Spring box. The double coating of strawberry cream and chocolate cookie stick create the perfect springtime snack. The midi strawberry fromage Pocky was featured in the March 2017 box Snacks over Flowers. It features a thick coating of strawberry cheesecake and chocolate on a cookie stick.
Last, but certainly not least, there is the Pocky trinity orange peel from the June 2017 Citrus Summer box. This pocky is coated in chocolate and dusted with orange peel to create a unique zesty flavor!
Our sakura Pocky is available for purchase individually on our Bokksu Boutique and makes for an excellent springtime snack. This buttery biscuit is dipped in a light pink white chocolate and flavored with actual sakura cherry blossoms! They're the perfect snack for a flower viewing party or hanami ... just make sure you bring enough for everybody!
If you're looking for more adult-friendly pocky, our Adult Amber Pocky and Goddess Ruby Pocky are perfect for you! Adult Amber Pocky is made with dark chocolate and biscuit that has malt extract in it and is good with whiskey. If you're more of a wine drinker, try pairing your wine with Goddess Ruby Pocky. The dark chocolate coating is infused with the aromas of three kinds of berries and the biscuit is made with parmesan and cheddar cheese as well as pepper. These pocky can be purchased individually or altogether in our Japanese Snack Market.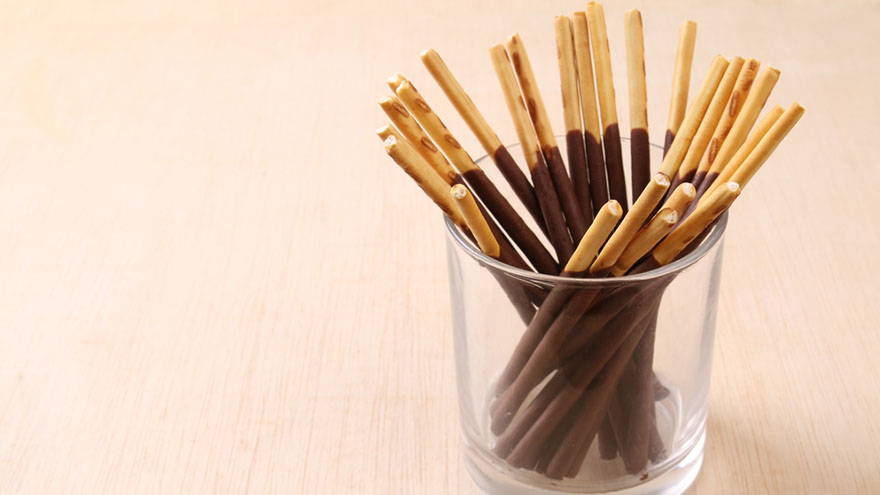 Order Your Pocky Today!
What are you waiting for? Order some of our delicious Pocky today!  We have a variety of other authentic Japanese snacks, treats, and sweets available for individual purchase through the Bokksu Boutique. You should also subscribe to our snack box service and keep an eye out for more exclusive Pocky flavors coming in upcoming boxes!
Learn how to make a fun drink with Pocky, below!
---